Bin Laden movie consult has White House under fire
Bin Laden movie meeting causes stir: Washington helping Hollywood produce realistic movies isn't new. But talking to filmmakers about the Osama bin Laden raid discomfits some Americans, including Rep. Peter King (R) of New York.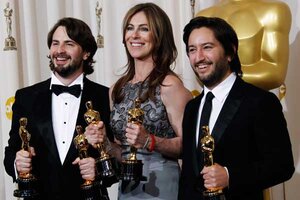 Matt Sayles/AP/File
The White House seemed genuinely taken aback this week at concerns from Rep. Peter King (R) of New York, the chairman of the House Homeland Security Committee, that it may somehow have compromised national security by having a chat with Hollywood.
At issue are reports that it shared details of the May 1 Osama bin Laden raid with two award-winning producers planning a "nonpartisan" reconstruction of America's effort to chase down "Geronimo."
The White House called the insinuations that it breached national security "ludicrous," saying the information given to director Kathryn Bigelow and screenwriter Mark Boal amounted to the kind of details it shares daily from the White House Press Room podium.
Nevertheless, Congressman King has called for an investigation, which has sparked speculation among conservatives that the embattled White House is colluding with Hollywood for a propaganda coup that will launch in theaters nationwide a month before the 2012 election.
---