More Western towns adopt 'toilet to tap' strategy to water conservation
Steady triple-digit temperatures and perennial dry weather across the West have forced environmentalists, politicians, and citizens to find new freshwater resources.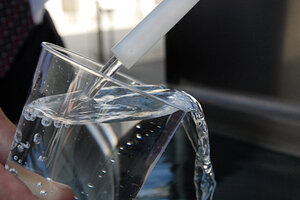 Mary Knox Merrill/Staff/File
This summer, Texas' drought of the century is an uncomfortable reminder that often there just isn't enough water to go around. But the 40 consecutive days of triple-digit temperatures and minuscule rainfall may also be boosting the case for a new freshwater source being developed in Big Spring, Texas, and surrounding cities.
With a waste-water-to-drinking-water treatment plant now under construction, Big Spring will soon join the growing list of cities that use recycled sewage water for drinking water – a practice that the squeamish call "toilet to tap."
The trend is expanding as climbing temperatures and dry weather across the West force environmentalists, politicians, and citizens to find newer, better solutions to freshwater resources.
"It's really a natural and cost-effective [solution] when you don't have another resource available," says David Sedlak, professor of civil and environmental engineering and codirector of the Berkeley Water Center at the University of California, Berkeley. "We have to recognize that as the population of the country continues to move out into the West and as climate change continually reduces the water supply, these issues are going to become more and more important."
---