As hurricane Irene steams north, Long Island braces for impact
Storm tracks suggest that hurricane Irene could hit Long Island late Sunday. Residents are emptying basements and moving cars in preparation for a storm surge made worse by high tide.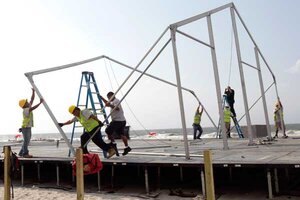 Seth Wenig/AP
After Hurricane Irene skims North Carolina, weather forecasters think it might head right for New York's Long Island.
This means residents in shoreside places like Oyster Bay, Bayville, and Bayshore are busy battening down as much as they can before the storm hits – perhaps late Sunday afternoon into Monday if it stays on its current course.
One of those trying to get ready for the storm is Sherlock Holmes (yes, that's his name), who keeps his boat in Oyster Bay harbor. As he rushes into the Oyster Bay Marine Center (OBMC), he announces he had taken all the sails off his 45-foot sailboat, removed all the canvas-work, and tied down anything that was loose. He is trusting that his mooring will keep the boat safe – without him on board.
"I've been on the boat in 60 knots of wind [69 miles per hour], and I don't want to be on it this time," he says.
The manager of OBMC, John McGrane, says he is trying to help people get their boats ready for what is expected to be heavy wind and seas even in the protected harbor. "You can't haul 200 boats out of the water," says Mr. McGrane, who thinks the worst winds he has experienced were 60 to 70 miles per hour. "But you can prepare 200 boats."
At OBMC itself, McGrane says workers are moving everything off the shop floor. "We are expecting flooding," he says.
McGrane lives in nearby Bayville, which has experienced flooding in past storms. He says his wife is busy moving everything out of their basement to their first floor. But it's not clear if that will even be high enough, because the storm is coinciding with the new moon tides, which will add an extra three feet of water.
---