Should 'bromance' really be in the dictionary? Merriam-Webster thinks so.
Merriam-Webster has included 'bromance' and 'fist bump' among 150 other new words in its new collegiate dictionary. The words are a compendium of American culture, linguists say.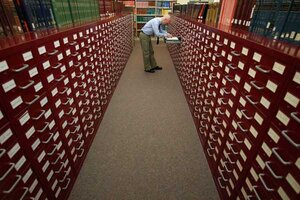 Charles Krupa/AP
"English is a living language," says no less an authority than Sarah Palin, who has coined a few words herself. So if you refudiate that notion, then you're probably not happy with Merriam-Webster right now.
The new Merriam-Webster Collegiate Dictionary has added 150 words in its latest 2011 edition, including, "bromance" (a close, nonsexual friendship between men), and "cougar" (middle-aged woman seeking a romantic relationship with a younger man).
Here's a couple more: "fist bump" (touching knuckles lightly with another person in lieu of a handshake), and "parkour" (a new sport which combines running, climbing, and leaping over environmental obstacles).
Who cares? Who should care?
It turns out dictionaries reflect not only which words are born each year, but which words die, as well. And since space remains constant – for collegiate editions, anyway – keeping track of what words come in and go out gives us a sort of compendium of the national consciousness.
"It's useful for speakers of any language to see that the word stock is always changing – new words are steadily adopted by users, and some old words drop out, too," says Laurel Smith Stvan, associate professor of linguistics at the University of Texas at Arlington, in an e-mail. "Some of them will likely drop from use before others, of course."
---