IHOP shooting: Will police ever understand gunman's motive?
As police in Carson City, Nev., seek a motive in the IHOP shooting Tuesday, criminologists say thorough investigations can often turn up the reasons behind mass killings.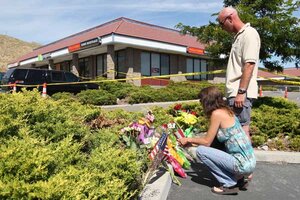 Cathleen Allison/AP
Authorities in Carson City, Nev., are still searching for the gunman's motive in Tuesday's shooting rampage at an IHOP restaurant. As they do, criminologists are suggesting that investigations could yet uncover why the shooter stepped from a minivan with a yellow "Support Our Troops" sticker on it and proceeded to kill five people, including three members of the National Guard.
Often, there is a pattern to be discerned by seemingly random mass killings, undercutting the notion that somebody "suddenly snaps and goes berserk and then shoot at anything that moves," says James Alan Fox, a criminologist at Northeastern University in Boston and author of "Extreme Killing: Understanding Serial and Mass Murder."
"These mass killings tend to be well-planned and methodical and deliberate and selective," says Professor Fox. "Although we may never know in this case, my hunch is that the choice of location and perhaps even the victims was not just random."
Just before 9 a.m., the gunman, since identified as 32-year-old Eduardo Sencion, stepped from his van in the parking lot of the IHOP and opened fire. Then, he continued into the restaurant and marched toward a table of five uniformed National Guard members, shooting each one, fatally wounding three of them, authorities said.
Five people were killed in the attack – including the gunman, who shot himself – and seven were wounded, authorities added.
Investigations can sometimes lead to an understanding about why such rampages occur, says Fox. After the the 2006 Capitol Hill massacre, in which a 28-year-old perpetrator shot himself after killing six and wounding two, Fox and a team of investigators began following several leads.
---