New York and D.C. alert as US warns of 'credible' terrorist threat
Intensified chatter on jihadist websites led the US to move to protect against a possible terrorist attack, likely focused on New York and the nation's capital, to coincide with the 9/11 anniversary.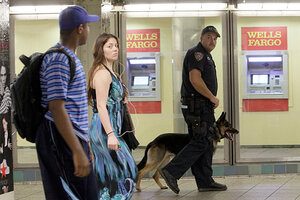 Mary Altaffer/AP
The United States is facing a "specific, credible, but unconfirmed" threat of a potential Al Qaeda attack on US soil, likely designed to coincide with the 10th anniversary of the 9/11 terrorist attacks, according to US officials.
US intelligence specialists have picked up "lots of chatter" on jihadist websites, "and we're taking it all seriously," Department of Homeland Security Secretary Janet Napolitano said Thursday.
She also noted that 9/11 is "an iconic day to Al Qaeda" and that it's not uncommon to see stepped-up threats of attack in conjunction with such anniversaries.
Secretary Napolitano hinted that some of the insights into this potential attack come from the cache of documents that US Special Operations Forces seized during the raid that killed Al Qaeda leader Osama bin Laden in May. "We know it's an iconic day to Al Qaeda in part because of what was found at the [bin Laden] compound, so we are preparing accordingly," she said.
Beyond that, Napolitano declined to provide specifics. "I don't want to give those [details] out because I don't want to tell the bad guys exactly what we're doing," she said. "But I think it's fair to say that in addition to asking citizens to be vigilant and so forth, that we have ourselves leaned forward and have made sure that we are doing all that we can."
Some additional information has leaked out, however, including "a possible plot directed at the homeland that seems to be focused on New York and Washington, D.C.," a senior Obama administration official told CNN, adding that the threat is believed to involve three trained terrorists and a vehicle laden with explosives. The would-be terrorists are believed to be coming from Afghanistan, but it's not known whether they have yet entered the United States.
---