Susana Martinez: Can a Latina governor be anti-illegal immigration?
New Mexico Gov. Susana Martinez acknowledged last week that she is descended from illegal immigrants. But as governor, she's taken a strong stance against illegal immigration. In that way, she's testing the boundaries for a new kind of conservative.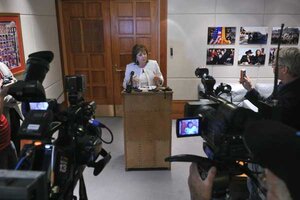 Newscom/File
The announcement last week by New Mexico Gov. Susana Martinez (R) that her paternal grandparents came to the US illegally brought national attention to a small but growing trend in American politics: the rise of the anti-illegal immigration Latino.
Since taking office last year, one of Governor Martinez's top priorities has been repealing a state law that lets undocumented immigrants get a driver's license – something legal only in New Mexico, Washington, and Utah. Martinez also signed an executive order earlier this year requiring state law enforcement officials to check the immigration status of criminal suspects.
Even before confirming the rumors about her lineage, Martinez had drawn criticism from immigrant advocacy groups for such policies. Her acknowledgment last week only heightened the backlash, with critics saying her politics are hypocritical given her background.
The comments speak to the particular challenges that conservative Hispanics face in taking a hard line on illegal immigration. Yet Martinez's rise to the governorship also suggests that Latino politicians can break out of the traditional mold, even on this most sensitive of issues.
"It's very possible that Republicans – both Latino and non-Latino – can be supportive of immigration reform," says Rosalind Gold, a senior policy analyst at the National Association of Latino Elected and Appointed Officials (NALEO). "This is internally an issue on the rise for Latino Republicans in statewide positions, which means there are going to be more people who are going to be supportive of immigration reform."
---