Do you have to be a math whiz to understand 'Best College' rankings?
U.S. News & World Report's just-released college rankings pass judgment on more than 1,000 institutions, using an exhaustive three-step process. But don't worry, we won't test you on it.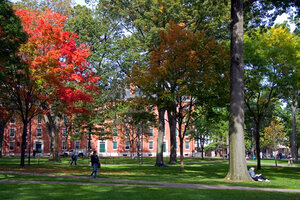 Newscom/File
So, how does U.S. News & World Report decide that Harvard and Princeton rank as America's top "national universities"?
True to form, the news magazine's annual ranking of the best colleges, released Tuesday, is top-heavy with Ivy League schools. (Harvard and Princeton tied for the coveted No. 1 spot, and the six other "ivies" also made the grade.) And while the rest of the list also contains few surprises, the exhaustive methodology behind the rankings is shrouded in a bit more mystery.
Since its first ranking was published in 1983, the magazine has used a three-step process to compile its lists. Here's how:
1. Schools are categorized by type of institution
Thousands of schools are sorted into four main types of institutions: national universities, national liberal arts colleges, regional universities and regional colleges.
According to the U.S. News website, "national universities" offer a full range of undergraduate majors plus master's and Ph.D. programs, and emphasize faculty research.
"National liberal arts colleges" focus almost exclusively on undergraduate education, awarding at least half of their degrees in the arts and sciences.
"Regional universities" offer a broad scope of undergraduate degrees and some master's degree programs, but few doctoral programs.
"Regional colleges" focus on undergraduate education but award less than half of their degrees in liberal art disciplines. These schools may also have small bachelor's degree programs but primarily grant two-year associate degrees.
"Regional universities and colleges" are further divided and ranked by their locations: North, South, Midwest and West.
There are also subsequent specialty rankings of certain undergraduate program areas, such as art, business, and engineering.
---