Reno crash raises questions about the future of air races
The Reno Air Races turned disastrous Friday when a P-51 Mustang aircraft crashed into the spectator area. The accident raises questions about the way such races are conducted.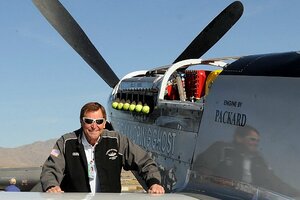 Marilyn Newton/The Reno Gazette-Journal/AP
[UPDATE: The number of people killed in the Reno Air Races crash Friday has risen to nine, according to the Reno police. Also, a T-28 aircraft crashed on the runway during a six-aircraft routine Saturday at an airshow in Martinsburg, West Virginia, killing the pilot. There were no other casualties, according to initial reports.]
The crash at the Reno Air Races in Nevada Friday afternoon – the worst accident in the history of the event – raises questions about the future of what's billed as "the world's fastest motorsport."
Have the capabilities of the high-speed aircraft flown at very low level exceeded the abilities of even the best pilots? Should age be a consideration in allowing pilots to compete? Should the race course be moved farther away from the tens of thousands of spectators who gather there each September.
Sometimes likened to the top race cars as "Formula One with wings," racing aircraft fly at up to 500 miles an hour and less than 100 feet above the ground. The fastest categories fly an 8-mile oval course around pylons.
The Monitor's weekly news quiz for Sept. 11-16, 2011
Many of the competing aircraft started out as vintage World War II fighters, such as the P-51 Mustang and the F8F Bearcat. But they are highly modified, with larger engines and aerodynamic characteristics that have been altered to increase performance during high-G turns that can stress airframes.
Jimmy Leeward, the pilot in the crash, was flying a P-51 named the "Galloping Ghost."
---