Targeting the rich, Obama takes Democrats back to their roots
By saying the rich should pay their 'fair share' in taxes, President Obama is taking up an argument that Democrats have largely avoided for years. With a presidential election and 'supercommittee' budget cuts in the balance, the political stakes could hardly be higher.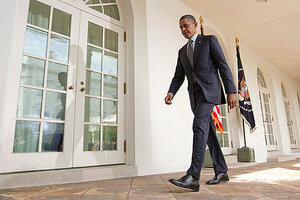 Evan Vucci/AP
President Obama's $3 trillion debt plan, unveiled on Monday, refocused Congress's debt debate on two of the most divisive questions in politics: Who is rich? What is fair?
In a sense, these issues are elemental to any tax-and-spend issue in Congress. But by hitting them so directly – and challenging voters to side with him in the debate – Mr. Obama is taking Democrats to a place they have have largely avoided since the 1984 presidential election, when President Reagan routed Walter Mondale.
Not only is a presidential election again in play this time, but a new, congressional "supercommittee" charged with trimming $1.2 trillion from the deficit is just getting started, raising the stakes further. How the debate plays out could play a central role in whether the joint committee can find common ground or whether it descends into stalemate.
"It's been a key argument of liberals that sacrifice should be shared, especially when times are hard," says Julian Zelizer, a congressional historian at Princeton University in New Jersey. "Since Walter Mondale got in trouble in 1984, you've heard a lot less of it."
The argument revived somewhat during debate over the Bush tax cuts, and "President Obama is talking about it a lot more now," he adds.
In a Rose Garden address on Monday, the president challenged Republicans to defend a tax code that requires middle-class families to pay higher taxes than millionaires and billionaires.
"Explain why somebody who's making $50 million a year in the financial markets should be paying 15 percent on their taxes when a teacher making $50,000 a year is paying more than that, paying a higher rate," he said.
---