Lax Ohio laws lead to 'free-for-all' for exotic animals, critics say
More than 50 exotic animals, including camels and tigers, escaped from a private Zanesville, Ohio, preserve, with 48 later killed by law enforcement in Muskingum County. Activists say the incident shows that Ohio needs to regulate exotic animals.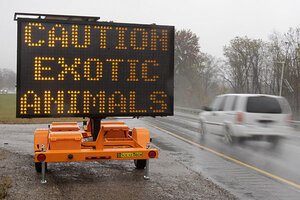 Tony Dejak/AP
The escape of an estimated 56 animals – including lions, tigers, giraffes, camels, and bears – from a Zanesville, Ohio, farm is just the latest and most dramatic in a string of incidents involving exotic pets running wild in the state.
In fact, animal-rights activists tab Ohio as one of the five worst states in the country when it comes to monitoring and regulating exotic animals in residents' backyards, garages, or basements.
"Ohio continues to be a free-for-all for unqualified and inexperienced people keeping dangerous animals," says Debbie Leahy, the captive wildlife regulatory specialist for the Humane Society of the United States.
The animals in Ohio had been kept in cages at a preserve near Zanesville owned by Terry Thompson, who apparently pried open the animals' cages and left the farm fences open before killing himself, according to Muskingum County Sheriff Matt Lutz.
Law enforcement officials said Wednesday afternoon they had accounted for all but two of the estimated 56 animals that escaped, 48 of which they killed. Only a wolf and a monkey were still on the loose. So far, no injuries have been reported.
But that has not been the case in the past. In total, the Humane Society documented 22 incidents involving exotic pets in Ohio since 2003, making Ohio one of the top five states for such incidents. They include:
In August last year, a man in Lorain County died after being attacked by a black bear. The owner's federal license had been revoked, but he kept eight bears, four tigers, one lion, and 12 wolves on the property.
In May 2009, a 10-year-old girl in Columbiana County was bitten by a mountain lion being kept as a pet. The girl had to be airlifted to a hospital for treatment.
In November 2007, a pet lion escaped in Pike County and was seen chasing cars on the street.
In August 2003, a Dayton firefighter died after being bitten by his pet, a poisonous African rhino viper.
---