Solyndra scandal probe widens as White House orders new review
Faced with a growing scandal over the bankrupt Solyndra solar power company, the Obama administration has ordered an independent review of government loans to energy companies. Republican lawmakers say they'll subpoena internal White House communications on Solyndra.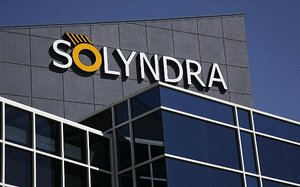 Robert Galbraith/Reuters
The Obama administration has ordered an independent review of loans made by the Energy Department to energy companies – a clear response to the controversial and now-bankrupt Solyndra Inc. solar energy company.
It's the latest step in the face of growing criticism over the $528 million government loan to Solyndra, which was part of the administration's economic stimulus package meant to advance green energy. Last month, FBI agents and investigators from the Department of Energy's Office of Inspector General searched Solyndra headquarters in California for documents and other information.
Heading the review announced Friday is former Treasury official Herbert Allison, who oversaw the Troubled Asset Relief Program, part of the 2008 Wall Street bailout.
"Today we are directing that an independent analysis be conducted of the current state of the Department of Energy loan portfolio, focusing on future loan monitoring and management," White House chief of staff Bill Daley said Friday afternoon – the traditional time for burying announcements. "While we continue to take steps to make sure the United States remains competitive in the 21st century energy economy, we must also ensure that we are strong stewards of taxpayer dollars."
---