Atlantic hurricane season closes with 19 named storms
From Arlene to Sean, the 2011 Atlantic hurricane season had 19 major storms. The season saw advances forecasters have made in providing local emergency managers with timely warnings.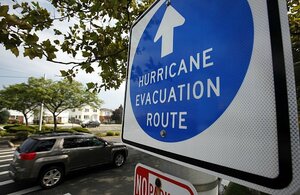 Mike Segar/Reuters
The curtain has fallen on the 2011 Atlantic hurricane season – one that enters the record books in a four-way tie for the third-largest number of named storms on record.
The others: the 1887, 1995, and 2010 seasons.
Tropical Storm Arlene started things off in late June. By the time Nov. 30 arrived, the roster ended with 19 named storms, ending with Tropical Storm Sean in early November.
Indeed, the season might have topped 19 named storms, but forecasters at the National Hurricane Center in Miami didn't catch a blink-and-you'll-miss-it storm in early September that quickly reached tropical-storm status, only to weaken hours later. It spent its brief life well off the US East Coast.
Forecasters noticed the storm as they performed their usual season's-end review of data on Atlantic-basin activity. The review also led to Tropical Storm Nate's promotion to Hurricane Nate.
Although the number of named storms was well above the long-term average of 11, the number of hurricanes and major hurricanes were only slightly above average, according to the center's post-season analysis.
RECOMMENDED: Five things you can do to keep safe in a hurricane
---