Lowe's stores face protests for pulling ads from 'All American Muslim'
Lowe's Home Improvement stores pulled its ads from the TV show 'All American Muslim' when the obscure Florida Family Association objected to a positive portrayal of Muslims in the US. Protesters are expected to picket Lowe's stores around the country Saturday.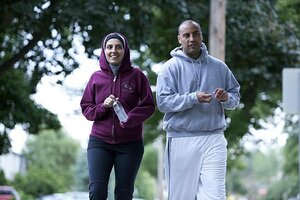 Adam Rose/Discovery/AP
A nationwide protest Saturday against Lowe's Home Improvement stores is standing the notion of advertiser boycotts on its head.
Such boycotts generally punish advertisers for supporting negative programming, but the protests in Dearborn, Mich., and from Maryland to San Diego, seek to protest the decision by Lowe's to pull its ads from a TV show, "All American Muslim," whose message was essentially positive.
An inter-denominational group of Detroit-area faith leaders plans to picket Lowe's Saturday in Dearborn, which has a large Arab-American population and is the location of the reality TV show. At a protest Friday in Paterson, New Jersey, protesters held signs that said "Don't Appease Hate Mongers" and "Discrimination is Low, Lowe's."
"Most of the time, people are asking buyers to boycott stores that advertise on shows with negative portrayals of something," said Robert Thompson, founder of the Bleier Center for Television and Popular Culture at Syracuse University in New York. "Here, they're doing it for a positive portrayal."
---
Follow Stories Like This
Get the Monitor stories you care about delivered to your inbox.