Where's the white stuff? Why northern tier of US is mostly snowless.
Initial forecasts called for a doozy of a winter, with lots of snow. But that has not materialized up north. If New York City doesn't see snow by Saturday, it will have only its third snowless December in 140 years.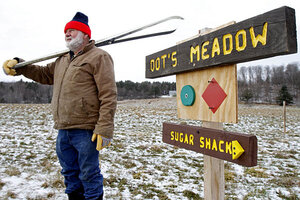 Toby Talbot/AP
If your Christmas had everything – holiday lights, a visit from Santa, a family meal – what likely went missing was snow.
So far this winter, the northern US – from New England to the Dakotas – has most eluded snow and sub-freezing temperatures. In cities that were digging out of storms at this time last year, temperatures have been almost double the average.
Examples on Monday: It was 52 degrees F. in Minnesota's Twin Cities, 27 degrees above average. In Chicago, temperatures reached 45 degrees, making it the 16th day this month that temperatures exceeded 40 degrees. Fewer than 2 inches of snow have fallen in Chicago so far this season, according to the WGN Weather Center here.
The story is the same in the east. Slammed with a blizzard, New York City was grapping with more than 20 inches of snow by this time last year. No flakes have fallen this season to date. If none is recorded in Central Park by New Year's Eve, it will be only the third year in 140 years of recorded weather history that the city hasn't seen snow in December.
Although the National Climatic Data Center does not yet have total results for December, it reports that 13 states in the Northeast and the upper Midwest recorded a top-10 warmest November and none had a top-10 coldest November. The month was the 25th warmest in the center's 117 years of recordkeeping.
However, snowbirds who now see no reason to fly needn't give up their plane tickets to Florida yet, says Alan Reppert, a senior meteorologist with AccuWeather in State College, Pa.
---