Will Apple block the new Steve Jobs action figure?
A Chinese company is promoting a Steve Jobs action figure but past directives by Apple to shut down similar products suggests it is unlikely the Steve Jobs action figure will make it to US stores.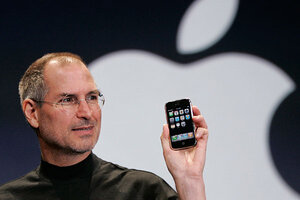 Paul Sakuma/AP
A Chinese company is promoting an action figure of former Apple co-founder and CEO Steve Jobs three months after his death, although it is not yet determined if Apple will allow the toy to reach US consumers.
Mr. Jobs died in October, generating weeks of public mourning, media scrutiny about the company's future, analysis of his contribution to the computing world, and a best-selling autobiography.
The action figure is the first in what is expected to be many more attempts by non-Apple operators to cash in on his legacy. However, judging from how protective Apple has been toward Jobs in the past, its unlikely to reach US store shelves.
The 12-inch action figure debuted this month from InIcons, a Chinese toy company. A prototype on the company website reveals a doll that resembles Jobs during his many Apple investor presentations: black turtleneck, jeans, sneakers.
The figure comes with several accessories: two pairs of glasses, three pairs of hands, a chair, socks and, yes, two apples – "one with a bite," according to the website. The company reports the figure is "dedicated to the genius, great inventor and visionary."
The price of the figure is $99.99 and is available for shipping in February.
Although preorders have stopped, several of the figures are currently onsale via eBay. Online traffic is currently overwhelming the InIcons website, making connecting temporarily impossible.
Apple has not yet commented on the figure, although past directives by the company to shut down similar products suggests it is unlikely the InIcons figure will make it to market.
---