'Doomsday Clock' moved forward. What has scientists worried?
Scientists say they moved the 'Doomsday Clock' a minute closer to midnight because nations are failing to sufficiently address nuclear proliferation, climate change, and other global threats.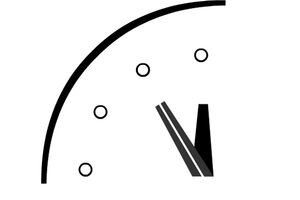 Citing "inaction" on renewed nuclear proliferation, climate change, and the urgent need to find sustainable sources of energy, a group of scientists has moved the "Doomsday Clock" a minute closer to midnight, saying nations are "failing to change business as usual."
It was a back-to-the-future moment for the "Doomsday Clock," which just two years ago had been shifted backward to indicate global catastrophe was a bit less imminent.
Directors of the Bulletin of the Atomic Scientist, a group originally composed of University of Chicago scientists involved in the Manhattan Project, created the clock in 1947 to use the imagery of apocalypse (midnight) to convey the peril of nuclear weapons proliferation. Through the cold war it tolled, reminding nations of the silent danger.
Over the years, the hands of the clock have moved around a lot. In 1949, the clock was moved to three minutes to midnight when President Harry Truman told the American public that the Soviets had tested their first nuclear device – starting the arms race. By 1991, with the cold war officially over and the US and Russia slashing their nuclear arsenals, the clock retreated to 17 minutes to midnight.
Terrorism, tensions between nuclear-armed rivals India and Pakistan, renewed friction between the US and Russia, North Korea's nuclear push, and other tensions had pushed the clock to five minutes to midnight by 2007.
But movement on nuclear arms talks, climate change, and other threats so buoyed the scientists two years ago that they ordered the so-called Doomsday Clock's minute hand to be pushed backward to six minutes before midnight.
---