Martin Luther King, Jr.: How would American life be different without him?
Institutional racism in the United States has declined greatly thanks to the work of civil rights leader Martin Luther King, Jr. Yet 'we have not reached the promised land MLK talked about,' says one scholar, nor has the economic equality King sought for all races been achieved.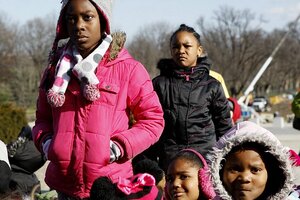 Gary Cameron/Reuters
Awaiting a panel discussion titled, "What if Dr. Martin Luther King, Jr. had Tweeted the Civil Rights Movement," Franklin Henderson sits in the darkened Steve Allen Theater, talking about the life he didn't have to lead because of King.
"We didn't have a poll tax in Miami, Florida where I grew up or a lot of the other hurdles blacks had," says the retired, Past National President of the Ninth & Tenth (Horse) Calvary Association. "He brought civil rights in America a very long way."
"But not far enough," says his wife, Doris. "There is still a long way to go."
The two comments echo the discussion today among scholars, activists, and African American community leaders in cities across America. A brief newsreel of civil rights marches, the fire hosing of blacks in the streets, and the discriminatory practices of the South sets the backdrop for the evening's discussion of how today's social media – as harnessed by several countries during the Arab Spring – would have eased the ability of King to organize his marches and boycotts.
But would it have lengthened his legacy?
"There are lots of whites, Latinos, and African Americans themselves who thought that with the election of Barack Obama, we had ventured into an America without racism," says history professor Maghan Keita, director of Villanova's Institute for Global Interdisciplinary Studies. "Yet, here we are, four decades after King, with encampments in public places still calling for the kind of equality he was after."
President Obama has weighed in with his official proclamation of the federal holiday.
---