Whitney Houston was the golden girl of the music industry
Whitney Houston, who died Saturday, wowed audiences with effortless, powerful, and peerless vocals rooted in the black church but made palatable to the masses with a pop sheen.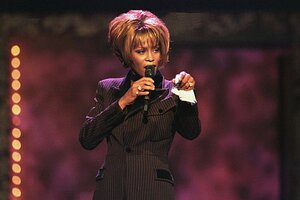 Las Vegas News Bureau/AP
Whitney Houston, who ruled as pop music's queen until her majestic voice was ravaged by drug use and her regal image was tarnished by erratic behavior and a tumultuous marriage to singer Bobby Brown, has died on the eve of the Grammy Awards she once reigned.
Beverly Hills police Lt. Mark Rosen said Houston was pronounced dead Saturday afternoon in her room on the fourth floor of the Beverly Hilton. "There were no obvious signs of any criminal intent," Rosen said.
Houston's publicist, Kristen Foster, said the cause of death was unknown.
Houston's death came on the night before music's biggest showcase, the Grammys. She will be remembered Sunday in a tribute by Jennifer Hudson, organizers said.
IN PICTURES: Grammy nominees 2012
Two days ago, she performed at a pre-Grammy party with singer Kelly Price. Singer Kenny Lattimore hosted the event, and said Houston sang the gospel classic "Jesus Loves Me" with Price, her voice registering softly, not with the same power it had at its height.
Lattimore said Houston was gregarious and was in a good mood, surrounded by friends and family, including daughter Bobbi Kristina.
"She just seemed like she was having a great night that night," said Lattimore, who said he was in shock over her death.
Aretha Franklin, her godmother, also said she was stunned.
"I just can't talk about it now," Franklin said in a short statement. "It's so stunning and unbelievable. I couldn't believe what I was reading coming across the TV screen."
---