Rutgers spycam case heads to jury, hinges on 'bias intimidation'
The spycam case drew national attention because of the intersection of alleged discrimination against gays and the intrusion of social media. Dharun Ravi faces 15 criminal charges.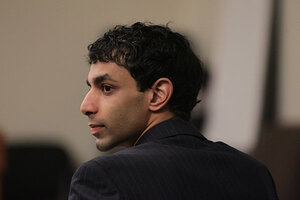 John O'Boyle/The Star-Ledger/AP
Attorneys made closing arguments Tuesday in the trial of a former Rutgers University student accused of cyber intimidation by using a webcam and other social media to expose his male roommate's intimate encounter with another man.

The gay roommate, Tyler Clementi, committed suicide by jumping off New York City's George Washington Bridge days after learning that information about his relationship had been made public.
Dharun Ravi, the defendant, stands accused of engaging "bias intimidation" against Mr. Clementi because of his sexual orientation. That's the most serious of 15 criminal charges against Mr. Ravi, which could result in as much as 10 years in prison.
The New Jersey case has drawn nationwide attention because it reflects the intersection of two prominent social issues: concerns about the challenges faced by young gay Americans and the ubiquity of social media in daily life.

Mr. Ravi set up his computer to monitor activities in the room he shared with Clementi, and communicated about his roommate's sexual orientation via text messages with friends and public posts on the Twitter social network.

"His intent was purposeful and ... it was targeted at Tyler," prosecuting attorney Julia McClure said in her sum-up argument. "And it was targeted at Tyler because of his sexual orientation."
---