Mysterious booms shaking dishes, and nerves, in Wisconsin city
Residents of Clintonville, 40 miles west of Green Bay, have been kept awake this week by a flurry of underground booms. Engineers are looking for the source, but it may never be known.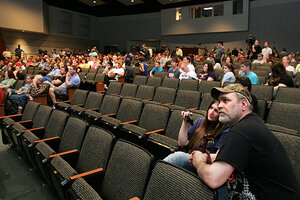 Ron Page/The Post-Crescent/AP
Before this week, Clintonville, Wis., a small manufacturing city 40 miles west of Green Bay, would hardly have been mistaken for a boomtown.
That changed with a flurry of mysterious and disconcerting overnight booms and vibrations that kept Clintonville residents nervously awake for three consecutive nights. The sonic interruptions brought national media to Clintonville and prompted city officials to hire an engineering firm Wednesday to figure out what is going on.
The intermittent underground booms began sounding in the wee hours early Monday morning, spurring about 150 calls to the city's emergency response center and spreading fear among residents that something is happening that may affect not only their sleeping patterns but the structure of their homes.
"The cracks in my floor, the cracks in my wall are getting worse," Sharon Binger said Wednesday night at a town hall meeting held at a local high school that attracted about 400 residents. The booms are powerful enough to rattle dishes, say some, while others describe the sounds as underground fireworks.
The city announced it is spending $7,000 for an engineering firm based in Waukesha, Wis., to study the sounds by placing four seismometers in the area to determine from how deep into the earth the booms are originating. The city set up its own audio and video surveillance equipment Wednesday night, but nothing was captured except a single boom around 5 a.m.
---