JetBlue pilot indictment offers view from cockpit: Osbon gave 'a sermon'
An indictment of Clayton Osbon, the JetBlue pilot restrained by passengers, reports erratic behavior in the cockpit, such as telling air traffic control to be quiet and gabbling nonsensical numbers. Osbon will undergo a mental competency exam.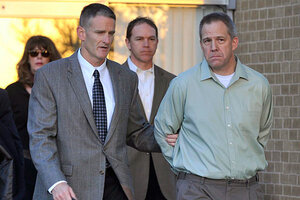 Michael Schumacher/Amarillo Globe-News/AP
The JetBlue pilot who was subdued by passengers on March 27 after he ran up and down the aisles of his aircraft shouting has been indicted by a grand jury for attempting to interfere with the performance of a flight crew.
Clayton Osbon, a 12-year pilot for JetBlue, is still reportedly being evaluated for mental competency to stand trial in Amarillo, Texas, where the copilot made a successful emergency landing of the Las Vegas-bound Airbus A320 airplane.
But trouble was brewing from the flight's beginning, according to court documents supporting the indictment, which offer a fuller look at what happened that day.
First, Captain Osbon showed up late and missed the crew briefing at JFK Airport, where the flight originated, crew members told the Federal Bureau of Investigation, according to Special Agent John Whitworth's affidavit in support of the indictment.
Initially, Osbon didn't exhibit any bizarre behavior, the affidavit states. But even as the flight climbed out of JFK's airspace, "Osbon said something to the first officer about being evaluated by someone."
At first, the flight officer wasn't sure what Osbon meant by that, but the pilot then began talking about his church and needing to "focus," the affidavit continues. After asking the first officer "to take the controls and work the radios, Osbon began talking about religion, but his statements were not coherent."
---