Secret Service Colombia scandal: Agents working too hard, or not hard enough?
Twelve US Secret Service agents were sent back to the US from Cartagena, Colombia, after allegedly drinking heavily and consorting with prostitutes. Is the long-veiled agency struggling with an increasingly complex mission?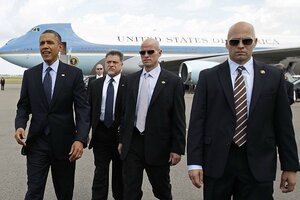 Kevin Lamarque/Reuters
As many as 12 US Secret Service agents preparing for President Obama's trip to Cartagena, Colombia, apparently fell short of the service's motto – "Worthy of Trust and Confidence" – and were sent back to the US, according to published reports, for excessive drinking and consorting with prostitutes.
Secret Service spokesman Edwin Donovan wouldn't confirm the numbers of agents involved or the circumstances for their reprimand. But he said, "The Secret Service takes all allegations of misconduct seriously."
But the head of a law enforcement union that represents Secret Service agents said at least one accusation involved an agent and prostitutes. While soliciting prostitutes is legal in Colombia, the Secret Service considers it inappropriate.
How much do you know about the US Constitution? A quiz.
According to staff at the Hotel Caribe, Secret Service staff drank heavily in the hotel, where White House staff and members of the press were also staying. A separate report said a prostitute complained to police after one of the agents failed to pay her.
A supervisor admonished the agents and sent them back to the US on Thursday. The Department of Homeland Security (DHS) said the move had no operational impact and did not affect Obama's security, though it came amid tight security and two separate bomb blasts in Cartagena ahead of the Summit of the Americas.
---