Secret Service and US military: Why prostitution can end careers
It's only quite recently that prostitution has been specifically addressed in military law. It also violates the Secret Service code of conduct. That's why last week's scandal in Colombia is damaging careers and ending some while raising questions about human trafficking.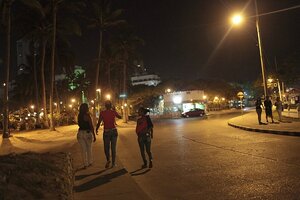 Stringer/Reuters
Throughout the history of war and the posting of armies far from home, prostitution has been a common feature. For military commanders, prevention and treatment of sexually-transmitted disease, plus concerns for operational security that might be compromised, have been the main issues.
It's only quite recently that prostitution itself (and the related issue of adultery) have been specifically addressed in military law and regulation – the reason ten US service members may be in trouble now for their connection to the scandal involving US Secret Service agents and supervisors alleged to have been with prostitutes while on assignment to help protect President Obama at the Summit of the Americas in Cartagena, Colombia, last week.
Under the Uniform Code of Military Justice (UCMJ), hiring a prostitute wasn't specifically banned until 2006 – as part of the Bush administration's effort to combat human trafficking, which frequently is connected to prostitution (including the involvement of underage girls).
"Under a change in the Manual for Courts-Martial, troops who patronize prostitutes can receive a dishonorable discharge, forfeiture of all pay and allowances and up to a year in jail," the Marine Corps Times reported when the change took effect.
The specifics of "prostitution" and "pandering" are spelled out in Article 134 of the UCMJ, as are the circumstances under which such activities are "to the prejudice of good order and discipline in the armed forces or … of a nature to bring discredit upon the armed forces."
---