First BP oil spill arrest: Why put the squeeze on a mid-level engineer?
The first criminal charges brought in the 2010 BP oil spill – against Kurt Mix, a former BP engineer – show that the government still seeks the answer to an essential question in the spill's aftermath: Did BP tell the truth about what it knew about the size of the spill? At stake are billions in fines.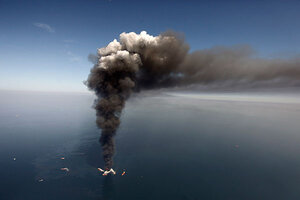 Gerald Herbert/AP/File
The arrest of former BP engineer Kurt Mix two years after the Deepwater Horizon rig exploded in the Gulf of Mexico, causing the biggest offshore oil disaster in the US, suggests that the federal government is still looking for answers about what the oil giant knew, and when, as it sought to convince the public, investors, and US officials that it had the situation in hand.
In the first such criminal indictment related to the BP oil spill, Mr. Mix, of Kady, Texas, appeared Tuesday in court in Houston, charged with obstruction for allegedly destroying some 300 e-mails and text messages related to what BP knew about the true flow rate of the Macondo well in the days after the explosion. Eleven rig workers died in the accident, and at least 4 million barrels of oil spewed into the Gulf.
One e-mail the FBI was able to retrieve suggested that BP knew its first attempt to cap the well – the so-called "top kill" – would probably fail, even though the company told the public and the government that it had a 60 to 70 percent chance of success.
---