Subtropical Storm Beryl: Dixie beachgoers batten down for big Memorial Day soak
It's not the way Memorial Day event organizers from South Carolina to Florida wanted the unofficial summer kickoff to go, with Subtropical Storm Beryl bearing down, threatening beach barbecues, but sparing the big NASCAR race.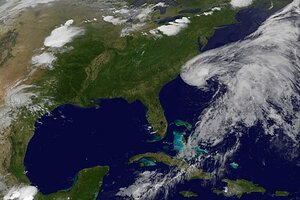 NASA/AP
Marking the first time in a century where two named storms have formed before the start of hurricane season on June 1, Subtropical Storm Beryl took aim at the ribbon of barrier islands along the Southeast as the Memorial Day holiday got underway, threatening to temper, if not squelch, the symbolic start of the American summer for tens of thousands of Southerners.
As of 11 a.m. Saturday, Beryl, as expected, switched to a southwesterly path, putting landfall of its central mass somewhere close to the Georgia-Florida border. The National Weather Service advised that the stretch from the Volusia-Brevard county line in Florida to Edisto Beach, in South Carolina, is under a tropical storm warning, meaning that storm conditions are imminent within 36 hours.
With 45 mile-per-hour sustained winds, Beryl, which organized overnight Saturday into a named phenomenon, is no monster storm, but is beefier than Alberto, which formed a week ago almost on the same patch of Atlantic where Beryl originated.
Hurricane prep: Are you smarter than a storm tracker? Take our quiz
Hurricane watchers say Beryl will bring rain, strong high tides, and cloudy skies to a wide swath of the coastal South, where hundreds of thousands Southerners flock to celebrate Memorial Day and unofficially kick off summer every year.
The difference between a tropical and subtropical storm has nothing to do with wind speed, but whether thunderstorms cluster at its center (a tropical storm) versus a more spread-out pattern (subtropical), as in the case of Beryl.
---