Poor unemployment report points to troubled US economy
The US added 69,000 jobs in May, the Labor Department reported Friday – the third straight month of disappointing jobs numbers. The unemployment rate edged higher, to 8.2 percent.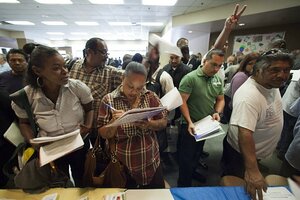 Damian Dovarganes/AP
In a troubling sign of a weakening economy, the Department of Labor reported on Friday that the US added just 69,000 jobs in May, about half of what Wall Street had been expecting. At the same time, the unemployment rate edged higher to 8.2 percent, up from 8.1 percent in April.
The low jobs total was the third consecutive month of disappointing jobs numbers. Initially, economists believed that companies had over-hired during the warm winter and had slowed hiring in the spring. Now, they say the economic downturn in Europe may be having an effect here, as banks become more skittish about making loans. At the same time, another barometer of confidence – the stock market – fell 6 percent in May.
"It is unambiguous the US economy is slowing down," says Richard DeKaser, deputy chief economist at the Parthenon Group, a consulting group in Boston. "The US economy's prospects depend on how the European crisis is resolved or left unresolved."
If the economy is slowing, the implications are widespread.
The Federal Reserve, which meets in mid-June, may announce it will try to reduce longer-term interest rates even more. The stock market – which dropped sharply on Friday morning – may have to digest the implications of slower economic growth on corporate earnings. And President Obama will face even harsher criticism from rival Republicans over his handling of the economy.
---