At Christian Scientists' meeting, a call to engage with Christian community
The Annual Meeting of The First Church of Christ, Scientist, held June 4 in Boston, urged a closer dialogue and fellowship with Christians of other denominations – part of an effort to look outward.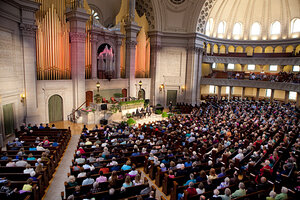 Melanie Stetson Freeman/The Christian Science Monitor
Now is a time for the Christian Science Church to look outward and engage the rest of Christianity – and the world at large – in a closer, heartfelt dialogue.
That was the message underlying the June 4 Annual Meeting of The Mother Church, The First Church of Christ, Scientist, in Boston, the headquarters of the worldwide Christian Science movement.
Church members who gathered Monday in the church edifice in Boston, or attended around the world via a webcast translated from English into Spanish, French, German, and Portuguese, heard how the church's many activities contribute to that dialogue.
The meeting's theme, "Christ calling us together," was drawn from a statement by Mary Baker Eddy, who founded the Christian Science denomination more than a century ago. "Our unity with churches of other denominations must rest on the spirit of Christ calling us together," Mrs. Eddy wrote. "It cannot come from any other source."
In an interview prior to the meeting, the church's new president, Chet Manchester, noted, "There's a need to be thinking beyond boundaries and beyond lines and more universally about the church and its mission."
To that end, early in the meeting the congregation sang Hymn 196 from the Christian Science Hymnal, which reads in part: "Let all that now divides us/ Remove and pass away.... Let all that now unites us/ More sweet and lasting prove...."
The meeting marked the 10th anniversary of the Mary Baker Eddy Library for the Betterment of Humanity, founded to introduce the general public to the life and accomplishments of Eddy and to provide a rich archive for scholars studying her life and work. During the past year, for example, a resident scholar's research has shown that an early, unflattering biography of Eddy, published in 1909, was not, in fact, the ghost-written work of Willa Cather, the celebrated American novelist, as had been assumed for decades. The new research has "completely shredded that argument," Mr. Manchester said.
---