Drones over America. Are they spying on you?
Thousands of drones could be routinely flying over the United States within the next 10 years. They can help with law enforcement and border control, but they also raise questions about invasion of privacy.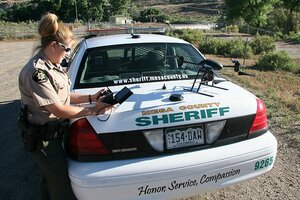 Mesa County Sheriff's Unmanned Operations Team/AP
Most Americans have gotten used to regular news reports about military and CIA drones attacking terrorist suspects – including US citizens – in Pakistan, Yemen, and elsewhere abroad.
But picture thousands of drone aircraft buzzing around the United States – peering from the sky at breaches in border security, wildfires about to become major conflagrations, patches of marijuana grown illegally deep within national forests, or environmental scofflaws polluting the land, air, and water.
By some government estimates, as many as 30,000 drones could be part of intelligence gathering and law enforcement here in the US within the next 10 years. Operated by agencies down to the local level, this would be in addition to the 110 current and planned drone activity sites run by the military services in 39 states, reported this week by the Federation of American Scientists (FAS), a nongovernment research project.
IN PICTURES: Drones America's unmanned Predators
---