Stuxnet cyberweapon set to stop operating
Stuxnet infected some 130,000 computers worldwide, most of them related to Iran's nuclear fuel enrichment program. It's programmed to shut down just after midnight Sunday, but there likely are other cyber espionage systems out there.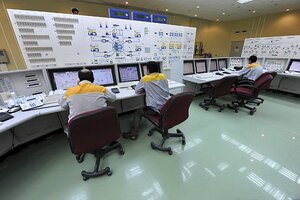 Ebrahim Norouzi/IIPA/AP
Goodbye Stuxnet. And Iranian officials would doubtless hasten to add: "Good riddance."
At one second past midnight Sunday, the world's most powerful known cyber weapon, reportedly created by the US with Israeli support to clandestinely infiltrate and then wreck Iran's nuclear fuel enrichment program, will cease to operate.
At present, the program still wakes up, goes through various check functions, looking for a target to destroy. But deep inside Stuxnet's labyrinth of software code are a few lines that will soon order the program to stop working altogether in a pre-programmed, belated and ultimately unsuccessful bid to prevent it from being detected and deciphered, say computer forensic experts who have examined the program's code.
RECOMMENDED: From the man who discovered Stuxnet, dire warnings one year later
As a practical matter, Stuxnet's departure is likely to be an invisible non-event as far as the wider world is concerned. All but a few hundred of the more than 130,000 computers globally – about two-thirds in Iran – that were identified in summer 2010 as infected with the computer worm have already had their software patched and cleaned up.
But the final deactivation of that powerful destructive digital code isn't likely to give much enduring relief to anyone. Not to Iran, which on June 21 announced it was still worried about another imminent "massive" cyber attack against it should negotiations with the US and other nations over its controversial nuclear program fail.
---