Unexpected legacy of wildfires and other emergency events: innovation
While wildfires, hurricanes, tsunamis, and other emergency events leave behind devastation, they also create the impetus for investment in new technologies and life-saving innovation.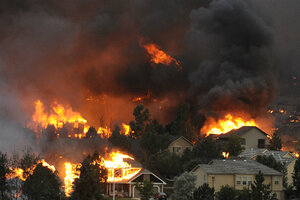 Helen H. Richardson/AP
The fires raging in the western US have now claimed at least one life in Utah, and tropical storm Debby has flooded homes and closed highways in Florida.
While this damage is devastating and costly to many, these crises – and others like them – leave a small silver lining in their wake: They help propel technological innovation. Their ability to capture public concern – and funding – helps spur development of new technologies as well as new uses for existing ones.
Media attention during crises jump-starts public awareness of critical, life-saving needs, both immediate and longer term, says Donald McKeown, from the Rochester Institute of Technology (RIT) Information Products Laboratory for Emergency Response (IPLER) in New York.
"Funding for the development of many vital technologies can be very difficult when there is no emergency in the news," he says, so awareness and momentum built during emergencies can be essential to being better prepared for future crises.
The RIT Lab has a four-year grant from the National Science Foundation and is partnered with the US Forest Service and the Department of Homeland Security, as well as private businesses, to develop airborne geo-spatial imaging for use during fires and floods.
---