As fireworks proliferate, injuries haven't. What does that say about safety?
Number of injuries relative to use of fireworks has gone down, say fireworks groups, noting a trend toward looser state restrictions. But 11 were injured July 3 at a Pelham, N.H., home. Last year saw 9,600 emergency-room injuries related to fireworks.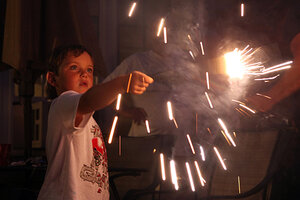 Joel Page/AP
The fireworks display that went horribly awry at a Pelham, N.H., home on July 3 – reportedly injuring 11, including five children – has prompted some calls for a rethinking of liberal fireworks laws.
But fireworks advocates insist the industry's track record is a good one, with the rate of injuries on the decline even as more states loosen restrictions.
Last year, there were at least four deaths and an estimated 9,600 emergency-room injuries related to fireworks, the US Consumer Product Safety Commission reported in June.
Since 1996, the number of injuries per year has ranged from 7,000 to 11,000, but the differences have not been statistically significant.
But purchases of fireworks have been on the upswing – with annual revenue from consumer fireworks valued at about $650 million in the US. So the number of injuries in proportion to their use has gone down, fireworks groups say.
From 2000 to 2012, the injury rate declined 43 percent, the American Pyrotechnics Association (APA) reports. The late 1990s saw six to eight injuries per 100,000 pounds of fireworks purchased, but in the 2000s, the rate dipped below four per 100,000 pounds.
States that the APA says allow some or all types of consumer fireworks permitted by the federal government have increased to 46 plus the District of Columbia. The four states that still ban all for individual purchase: Delaware, Massachusetts, New Jersey, and New York.
Most states, including New Hampshire, have some restrictions on what people can buy and where fireworks can be used, but at least five have broadened what's allowed during the past two years, according to the APA.
---