Democrats renew bid to require big campaign donors to disclose
DISCLOSE Act would require corporations, labor unions, and other groups to disclose campaign donations of more than $10,000, but it faces a GOP filibuster in the Senate.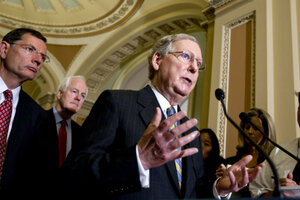 J. Scott Applewhite/AP
Democrats on Capitol Hill are launching a new drive to impose more disclosure requirements on campaign donors in the heat of a presidential election poised to be the costliest in history.
The Senate will vote as early as Monday on the 2012 DISCLOSE Act, a bill that aims to offset some of the impact of the US Supreme Court's 2010 Citizens United decision, which allowed corporations, labor unions, and other interest groups to spend unlimited amounts on political campaigns. The DISCLOSE Act would require such groups to report donations of $10,000 or more to the Federal Election Commission.
"We've basically entered the Wild West of campaign finance," said Sen. Charles Schumer (D) of New York at a press conference on Thursday. "We believe this offers a fresh opportunity to reform and we're going to seize it."
With Republicans firmly opposed, the measure has little chance of passing Congress in time to force new transparency on the 2012 campaign cycle. Still, Democrats aim to use the vote to paint Republicans as standing for special interests, while Republicans say such disclosure is little more than an attempt to identify, intimidate, or even punish political enemies.
In the 2012 election cycle, individual contributions to candidates are capped at $2,500 and may not come from corporate or union treasuries. Contributions to candidates that come from traditional political action committees cannot exceed a $5,000 annual limit. But the Citizens United ruling spawned the creation of "super PACs", which can accept unlimited donations from any source to influence elections, so long as they do not coordinate spending with campaigns. In principle, super PACs must disclose donors, but in practice that has meant disclosing the names of politically active nonprofit groups, which are not required to disclose donors.
---