As drought withers US corn crop, ethanol industry feels the squeeze
As corn prices soar amid deepening drought, ethanol plants watch their margins evaporate. The industry is working at half-capacity, and some plants have closed. The slowdown is a blow to some rural areas.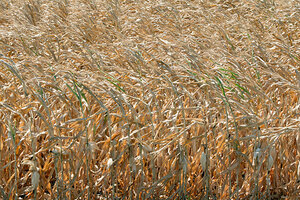 Nati Harnik/AP
In late June, as drought gripped his state, Tom Utley saw a sign of trouble. The plume of steam that had billowed 24 hours a day high above the local ethanol plant – and fixed the location of his town from far across the fields of central Indiana – had vanished.
"I think everyone in the community notices when stream is not coming out of the stack," says Mr. Hutley, a resident of Linden, Ind., and county commissioner for Montgomery County. "It's a reminder every day that something is amiss in ethanol land."
The drought that has shrunken rivers and withered crops in much of the United States has begun to take a wider economic toll. A recent survey of Midwestern bankers in 10 states found declining retail sales, slowing equipment purchases, and increased borrowing, among other indicators.
"The numbers are not nearly as good as they've been," says Ernie Goss, an economist at Creighton University in Omaha who surveyed bankers for the Rural Mainstreet Index.
The economic slowdown has extended to the ethanol business, which blossomed in recent years and now consumes about 40 percent of the nation's corn crop. Drought-inflicted damage to the corn crop has driven up corn prices – now about $8 a bushel – and squeezed ethanol margins to the vanishing point, say agricultural economists and industry experts. As a result, many ethanol plants have cut production. In a few places, plants have shut down entirely.
---