Rover Curiosity is a star, but can it help fund future of Mars exploration?
The steady stream of enticing photographs from the rover Curiosity may be wowing scientists and the public, but NASA is facing serious budgetary constraints on the future of Mars exploration.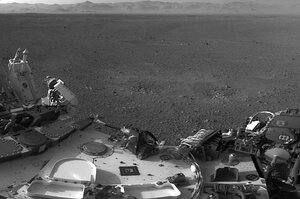 JPL-Caltech/NASA/REUTERS
NASA's Mini Cooper-sized rover Curiosity has spent the past week wowing the mission's scientists, engineers, and the public with each new set of photos it sends and each indication that everything on the one-ton, pencil-necked robot is working virtually flawlessly.
Given all the good news, you'd think that the Mars exploration program is hale and hearty.
Instead, the agency is in the final stages of a major overhaul of its robotic exploration effort at Mars. In the past, such overhauls have come after spectacular failures – after the loss of the Mars Observer orbiter in 1993 and again after the loss of two more missions in 1999.
This time, it's coming as the world celebrates the initial success of the most daring attempt at a Mars landing yet on a mission that begins the hunt for evidence that Gale Crater, with its imposing three-mile-high central summit, could once have supported life.
The reason for the overhaul?
"It's purely budgetary," says Bruce Jakosky, a researcher at the University of Colorado in Boulder and the lead scientist on the final mission on the current Mars agenda, the MAVEN orbiter.
The White House proposed a $4.91 billion science budget for NASA for fiscal 2013, which starts Oct. 1. That's a 3 percent cut over last year's spending. Within that broad category, however, the administration sought $1.19 billion for planetary-science, a 20 percent cut. And the Mars program garnered a $360.8 million request, a cut of 38.5 percent.
---