Chris Christie: larger-than-life keynoter for Republican convention
New Jersey Gov. Chris Christie is known for a sharp tongue, sizable girth, and serious reform efforts in a mainly Democratic state. The keynote address will boost his national image – and his career prospects.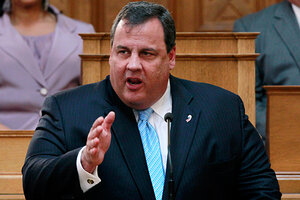 Mel Evans/AP/File
Chris Christie, the larger-than-life governor of New Jersey, will deliver the keynote address to the Republican National Convention in Tampa, Fla., later this month, the GOP's top official announced Tuesday.
Governor Christie considered his own run for the presidency but, after less than three years in office, decided against it. Still, in his short time in office, Christie has built a national profile as a sharp-tongued reformer who was able to work with New Jersey's Democratic-run legislature in cutting the state budget and curtailing public-sector unions – all without a blowup like what happened in Wisconsin.
Perhaps most important, Christie is a compelling, charismatic speaker with a message of fiscal responsibility who knows how to get roars from a crowd. His selection as keynote speaker may signal that his party sees a stellar future for him. At the 2004 Democratic National Convention, it was Barack Obama's keynote speech as an Illinois state senator and US Senate candidate that put him in the national spotlight.
---