For Latinos, Anaheim gang sweep rubs riots' wounds. Should police have waited?
Anaheim police say the sweep couldn't wait, and getting gang members and guns off the street will make the city safer. But Latino residents, still bitter after police shootings that sparked riots, saw a power play.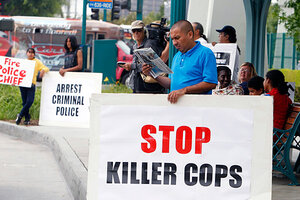 Alex Gallardo/Reuters
For the police in Anaheim, where the rates for murder and crime in general have soared over the past year, the gang sweep was an operation that could not wait.
But for many residents of the mostly Latino neighborhoods where the sweep took place, the police action last Friday, dubbed "Operation Halo," was just a power play following a riot-filled July and early August.
Whether the operation achieves the stated goal of reducing crime in California's 10th-largest city remains to be seen, but for the time being, the residents' bitter reaction points to a deep mistrust of city officials that is lingering weeks after the fatal police shootings that sparked the riots.
The police sweep Friday, a massive sting operation targeting a group known as the Eastside Anaheim gang, resulted in the arrests of 33 purported gang members. In addition to the arrests, the department's Bureau of Alcohol, Tobacco, and Firearms seized 40 guns and nearly 12 pounds of crystal methamphetamine.
According to police, crime in the affected neighborhoods was so bad that the sweep couldn't wait, even though communities here are still reeling from the violent riots sparked by a series of officer-involved shootings in recent weeks.
"We decided we couldn't put this off any longer," Anaheim Police Chief John Welter said in a Friday press conference detailing the operation. "We can't wait until another person gets shot."
But while the department acknowledged the potentially problematic timing of the crackdown (saying it even considered a delay), residents see it as retaliation.
---