Tropical storm a-brewing, headed for Haiti, Cuba ... Tampa?
It's still a tropical depression, but forecasters expect it to become a hurricane by early Thursday. Some models show it dousing Tampa, Fla. – and the Republican National Convention – next week.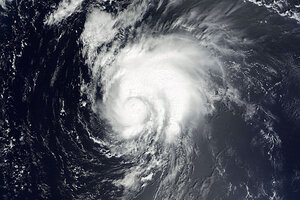 Courtesy of NASA Goddard MODIS Rapid Response Team/Reuters
The tropical depression out in the Atlantic isn't even a full-fledged hurricane yet, but its early development is attracting more than the usual attention because one possible path would bring it right over central Florida in time for next week's Republican National Convention in Tampa.
Hurricane forecasting that far in advance is very inexact, certainly, and a lot will happen weatherwise between now and next Monday, when the convention gets under way. Here's how the picture looks now.
Forecasters expect a tropical depression approaching the Caribbean to become a tropical storm during the next 12 hours. Tropical-storm warnings have been issued for the Lesser Antilles.
The storm would become tropical storm Isaac once its maximum sustained winds reach between 39 and 73 miles per hour. Forecasters at the National Hurricane Center in Miami expect the storm to become a hurricane by Thursday morning.
The depression currently is located some 561 miles east of Martinique. By the weekend, the current track forecast could bring Port-au-Prince in Haiti within the storm's tropical-storm force winds, with the hurricane grazing Cuba's southeastern coast by Sunday morning.
---