Housing market turning a corner? Signs of hope for homeowners.
Rising home values and declining foreclosure rates indicate a slow but steady recovery for the US housing market. Obstacles remain, however, including negative equity due to 'underwater' mortgages.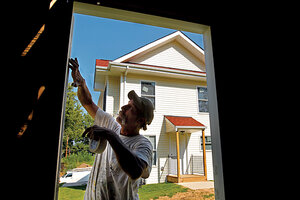 Christian Gooden/St. Louis Post-Dispatch/AP
Here in Rhode Island, some of the best and worst of the US housing market is on display. A price map shows some ZIP Codes around Providence shifting from red (declining) to green (rising). The tally of homes in foreclosure has been falling over the past year. And although the construction industry hasn't decisively turned a corner, some glimmers suggest that brighter days are on the horizon.
After several years of lower-than-usual attendance, the annual clambake of the Rhode Island Builders Association saw turnout nearly double last month.
Indicators like that are visible across much of the nation. Market analysts say the signs of a long-awaited recovery are unmistakable. But as the real estate market enters a cooler season of the year, Rhode Island is also a reminder of the challenges that remain.
A weak economy has pushed more people to rent rather than own. Rental prices have been rising. And even though it's been about five years since home prices hit their boom-time peak, the fallout from a price bust still weighs heavily on households.
A staggering share of mortgage borrowers – more than 1 in 5 in this state and in the nation – are "underwater," with loan balances that outstrip sunken property values. This problem of negative equity is one of the biggest obstacles to the revival of more normal times in housing.
From block to block, the result is more defaults and foreclosures, or less mobility for people who might wish to sell their homes. The recession's toll on home equity also carries a "wealth effect" that dampens consumer spending, slowing the US economy's overall growth.
"It's a good [housing] recovery, but I wouldn't describe it as solid," says Patrick Newport, a housing analyst at IHS Global Insight, a forecasting firm. "Construction is not even half of what it should be in a normal time," he says, just as sales volume remains depressed.
---