View from a transit bus as a Sandy-immobilized New York gets going
Many New Yorkers ventured back to work two days after the city was yanked to a standstill by hurricane Sandy. But normal patterns of travel remain disrupted, as the Monitor's own reporter can attest.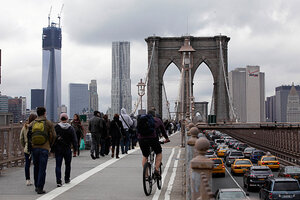 Richard Drew/AP
New York began Wednesday to crawl toward normalcy after being immobilized for two days by hurricane Sandy. The stock market opened on time. Two of the area's three airports – JFK International and Newark (N.J.) International – resumed flights, although on very limited schedules. Bridges connecting Manhattan with Queens and Brooklyn reopened. And, after days of reporting from a makeshift home office, your Monitor reporter decided to make the 2-1/2-mile trek to the newspaper's Midtown office.
This is usually a relatively fast and hassle-free affair: two subway rides and, 20 minutes later, I'm there.
But on Wednesday, the first day that "the city that never sleeps" has stirred since Sandy came ashore on Monday, forgetaboutit.
The subways are still closed, as the Metropolitan Transit Authority (MTA) continues to pump water out of flooded underground stations. Instead, the MTA is running free buses. Yes, there is a route only a few blocks from my apartment on the Upper West Side.
Ordinarily, bus service is slow but reliable. The fleet of 5,600 buses usually carries 2.5 million riders a day, says the MTA.
Could I be one of those Wednesday morning? Only if I can manage to squeeze onto a bus already crammed with other West Side residents. But, hey, the back door of the bus is open, and look, a few unoccupied square inches!
This ride from the West Side to Midtown usually takes about 30 minutes. On an express bus, it can be less than 20. But we are barely inching down Broadway. Why so slow?
---