Why is Texas always a mere Fort Sumter away from seceding?
Secession talk has always been Texas-sized in Texas. But if nothing else, the latest online request to the White House for independence really means: Get ready for four more years of acrimony between Austin and Washington.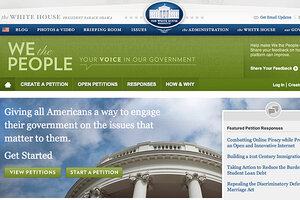 screen capture of petitions.whitehouse.gov
Did you know Texas is actually not a US state, but an occupied land, bear-hugged, and bamboozled into the Union not by will but by force?
It's true! Well, kind of.
If there's one thing that's not news in Texas, it's secession talk, which has been going on ever since the United States, with the OK from the then-nine-year-old independent republic's president, annexed the Lone Star state and extended the federal umbrella over the Palo Pinto Mountains and beyond. That annexation and the legal details of the return of Texas into the Union after the South lost the Civil War have been contested over the years in court by various "Republic of Texas" splinter groups.
RECOMMENDED: Election 2012: 12 reasons why Obama won and Romney lost
Now, here we go again: After a contested election that for some confirmed the depth of the political and philosophical distance between Washington and Austin, over 112,000 Texans are ready to take their ball (and all that oil) and go home by petitioning the White House's "We the People" website for independence. (The Obama administration now owes Texans an official response by mid-December, as it does dozens of other similar state secession requests. The White House website promises a response to petitions with over 25,000 names.)
---