Alabama bunker standoff: Did politics set Jimmy Dykes off?
After killing a school bus driver, retired Alabama truck driver Jimmy Dykes has held a 5-year-old boy hostage for five days in an underground tornado bunker. Neighbors say the act may be a provocative political statement.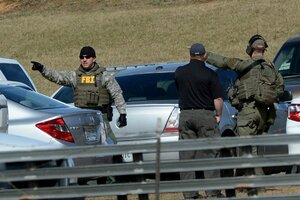 Julie Bennett/AP
A tense hostage situation involving a 5-year-old autistic boy and a menacing survivalist in rural Alabama is now stretching into its fifth day, as authorities continue to communicate with Jimmy Dykes through a pipe that extends into a dark, tight underground bunker.
But while authorities have remained largely mum, some in Midland City, Ala., who know Mr. Dykes are speculating that the former truck driver's brazen attack on a school bus, which ended with a school bus driver dead, and the subsequent kidnapping of a boy identified as Ethan, may be an anti-government act, sparked by a court case against him.
"I believe he wants to rant and rave about politics and government," neighbor Michael Creel told the Associated Press. "He's very concerned about his property. He doesn't want his stuff messed with."
The morphing of the burgeoning survivalist movement with government defiance certainly isn't widespread. But some experts, as well as the US Department of Homeland Security, have speculated that, for some, survivalism as an ideology can spill over into anti-government zealotry and raise the specter of domestic terrorism.
Dykes had been preparing for some kind of action as he built his bunker and often patrolled his property with a rifle deep into the night. He had told neighbors the sunken bunker was intended as a tornado shelter.
---