Snowfall forecast for Blizzard of 2013 just got bigger. What changed?
Much of the region covered by blizzard warnings had been expected to get 18 to 24 inches of snow. Now the figure is 24 inches-plus. Features called snow bands are figuring into the calculus for Blizzard of 2013.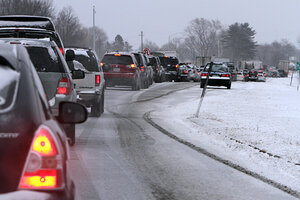 Jim Cole/AP
Overnight, predicted snowfall totals from the now-building Blizzard of 2013 jumped higher than the previous estimate, to above the two-foot mark. What happened?
A slight change in storm tracks, for one. And, as two storm systems join forces to bear down on New York and New England, cold air arriving behind one of the systems has upped the ante for snowfall.
Whereas much of the region covered by blizzard warnings had been projected to get 18 to 24 inches of snow from the storm, forecasters with the National Weather Service now are calling for more than 24 inches for much of the same region, which includes the cities of Boston, Worcester, Mass., Providence, R.I., Hartford, Conn., and Concord, N.H.
That estimate is likely to be refined further as the storms merge and the region takes the full brunt of the resulting blizzard. By 7 a.m. Eastern Standard Time Saturday, the center of the final product is projected to sit over the Atlantic Ocean southeast of Nantucket Island.
Key to the heaviest snows are features in a large winter storm dubbed snow bands -- regions within a storm typically 150 miles or more long and anywhere from 12 to 60 miles wide. Within these bands, snowfall is especially intense and can be accompanied by "thunder snow," essentially a thundershower with snow instead of rain.
But their relatively narrow form means that someone living underneath one of these bands can experience snowfall rates of 3 inches or more an hour, while someone living 20 miles away might see rates of only half an inch or so, says David R. Novak, who heads the development and training branch within the National Weather Service's Hyrdometeorological Prediction Center in College Park, Md.
---