Delaware court shooting: Custody battle turns fatal
A shooter at a Delaware courthouse killed two women and wounded police officers before being fatally shot by police. The shooting began before he reached the metal detectors at the Delaware courthouse.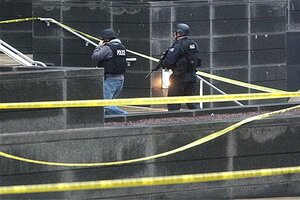 William Bretzger / News Journal / AP
A gunman who spent years in court battles over child custody disputes opened fire Monday in the lobby of a Delaware courthouse, leaving two women dead before police fatally shot him, authorities said.
"It happened so fast," said Jose Beltran, an employee at the New Castle County Courthouse who was entering the lobby when he heard two shots. He said he turned around and heard three or more shots as he ran.
Delaware State Police Sgt. Paul Shavack said the suspected gunman and two women are dead. Wilmington Mayor Dennis Williams said in a phone interview that one of the women killed was the shooter's estranged wife, but Shavack said police had not confirmed that was the case and cautioned against information from other sources.
Shavack did not say how the gunman died. He said two police officers suffered non-life-threatening injuries.
Delaware Attorney General Beau Biden said at an afternoon news conference that the shooting was not a random act of violence but the result of a custody dispute.
"It's developed out of a long – over the course of many years – custody dispute in the courts of this state," he said.
Earlier, Shavak said the gunman opened fire before he passed metal detectors in the lobby.
Chick Chinski of Middletown said he was entering the courthouse to report for jury duty when he heard popping sounds.
---