State of the Union: NASA's 'Mohawk Guy' will sit with Michelle Obama
At the State of the Union address tomorrow night, First Lady Michelle Obama will be joined by NASA's 'Mohawk Guy,' the Iranian-American Bobak Ferdowsi who attracted attention during the landing of NASA's latest Mars mission, the Curiosity rover.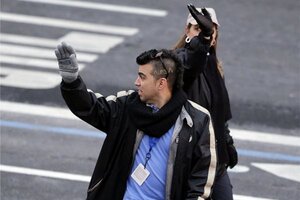 Alex Brandon / AP / File
Life is good for NASA's "Mohawk Guy." He became world famous after helping NASA's huge Curiosity rover make a dramatic landing on Mars, and now he'll sit with first lady Michelle Obama during Tuesday's State of the Union address.
The Iranian-American Mohawk Guy — whose name is Bobak Ferdowsi — will sit in the first lady's box to highlight President Barack Obama's call for more visas for skilled immigrants in the fields of math, science and engineering, Southern California Public Radio reported Monday (Feb. 11).
A White House official confirmed the news to SPACE.com.
Ferdowsi will be joined in the box by a number of other people from various walks of life, whose presence may help the president drive home points about some of his policy proposals. The speech begins Tuesday at 9 p.m. EST (Feb. 12; 0200 GMT Wednesday).
---