Cruise ship drama: How to survive on an 893-foot life raft
Tourists turned survivors got back to basics and formed a temporary colony onboard the paralyzed Carnival Triumph.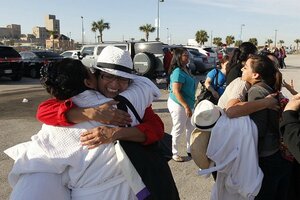 Jennifer Reynolds/The Galveston County Daily News/AP
As tourists-turned-survivors kissed the ground as they began to disembark from the Carnival Triumph early Friday, stories emerged about how passengers survived, and sometimes even thrived, while dealing with short supplies and a "sauna of sewage" on the paralyzed cruise ship.
To be sure, the incident, which started after an engine fire last Sunday left the Triumph powerless and adrift in the Gulf of Mexico, has already sparked lawsuits by disgruntled passengers who complained of backed-up toilets, inattentive crew and other "nightmare" conditions.
What's more, it was another PR ordeal for Carnival, which lost the Costa Concordia last year off the coast of Italy, and saw another ship, the Carnival Splendor, stranded and adrift for days in the Gulf in September 2010.
RECOMMENDED: After Costa Concordia disaster: 8 safety tips for cruise ship passengers
Yet as Triumph passengers came ashore and boarded buses for home on Friday, it also became clear that the experience of being adrift in basically a 893-foot life raft also gave some of those aboard a fresh sense of gratitude as they formed prayer groups, helped each other build topside tents, bartered for goods like baby formula, looked after passengers with disabilities, and gave comfort to complete strangers as the days whiled by.
"The ship looked like vagabond city," Cedar Hill resident Georgia Jackson told the Associated Press, "but by and large people got along great."
---