Republican Party charts course for reinvention: Will it work?
Focus groups told a Republican task force the party is 'out of touch' and full of 'stuffy old men.' Its 98-page plan, out Monday, contains 219 proposals for reform. But it mostly steers clear of policy.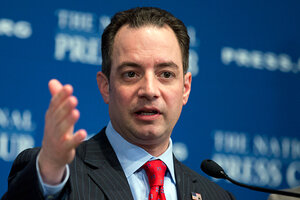 Manuel Balce Ceneta/AP
No more happy talk. The Republican National Committee (RNC) has laid bare its pain following last fall's presidential election defeat. And on Monday, it put out a 98-page plan to modernize its operations and get back in the business of talking to all Americans – not just those who already agree with the party.
The self-diagnosis is pretty harsh.
"There's no one reason we lost," RNC chairman Reince Priebus said in a speech Monday at the National Press Club. "Our message was weak. Our ground game was insufficient. We weren't inclusive. We were behind in both data and digital. And our primary and debate process needed improvement."
Focus groups, Mr. Priebus said, described the party as "narrow-minded," "out of touch," and "stuffy old men."
"We have to do a lot better job and do a lot more to make up ground in minority communities, with women and young voters," he added.
Notably, the 219 recommendations in the RNC report barely touched on policy. One exception is the call to "embrace and champion comprehensive immigration reform," as a way to get minority communities – especially Hispanics, who gave GOP presidential candidate Mitt Romney only 27 percent of their votes – to listen to the party's message on economic opportunity and education.
But the report, noting that the RNC does not decide policy, omits discussion of the crux of the matter: whether reform will include a pathway to citizenship for those in the country illegally. Some leading Republicans – including Sen. Marco Rubio (R) of Florida, a top prospect for the 2016 presidential race – have embraced a path to citizenship, while others remain opposed, which could complicate efforts at passing legislation.
The need for better party outreach to women, gays, and young voters also figures prominently in the report. When asked at the press club how the GOP can do better at attracting fiscally conservative gays and women, Priebus turned immediately to the announcement last week by a prominent Republican senator who announced his support for gay marriage.
---