Obama goes from scolder in Washington to comforter in Boston
In Washington, President Obama is locked in a battle with many voices in Congress over gun control, but at a moment of national tragedy, such as the Boston Marathon bombings, the president stands alone.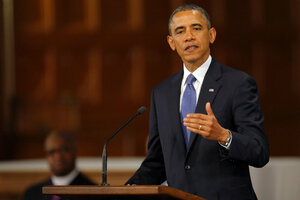 Brian Snyder/Reuters
A day after he stood in the White House Rose Garden as a frustrated scolder-in-chief, President Obama was in Boston Thursday assuming the role of comforter-in-chief at a prayer service for the victims of the Boston Marathon bombings.
In both cases, Mr. Obama was acting to address, though in very different ways, horrendous acts of violence that stunned the country.
On Wednesday afternoon, with Gabrielle Giffords and Sandy Hook families at his side, the president cast "shame" on the US Senate for rejecting a bipartisan plan for tighter background checks on gun purchases. Not 24 hours later, he was providing balm to the victims of an "act of terror" and to a city struck in its heart.
In just a day, the president changed out of the political cloak of irate reaction to Congress to the higher m antle of national leadership in times of grief. As Obama hugged families and visited the bedsides of the recovering, it only underscored how a presidential presence that meant so little one day in Washington could mean everything in Boston the next.
---