Were motives of Boston bombing suspects embedded in Chechen heritage – or not?
The suspects in the Boston Marathon bombing were immigrants from a violent region of the Caucasus, but experts say disaffection with the US, rather than radical ideology, is the more likely motive.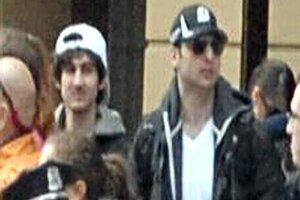 FBI/AP
Identification of the two principal suspects in the Boston Marathon bombings as two immigrant Chechen brothers who grew up in and around the heavily Muslim Caucasus region of Russia during a particularly violent period would seem to add a clarifying element to the already astounding events in Boston this week.
Evidence that the older of the two brothers had recently expressed increasingly jihadist thinking on social media sites adds a radical Islamist element to the mix.
But a picture is emerging of two young men who were, mostly, increasingly disaffected with their adopted home. It could be they were searching to assert an identity from the religious and political elements of a rootless and violence-marked upbringing, some terrorism and Central Asia experts say.
At least one relative, an uncle living in the US, told a Boston TV station Friday that the brothers were "losers" who were angry at others who were making it in America. "Anything to do with a religion is a fraud," the uncle, Ruslan Tsarni, told Boston's Channel 7 News, adding that the brothers had been unable to settle down and get ahead, and were angry about that.
However the young men's roots in a violent region can't be dismissed, some experts say.
---