How did Denver's 4/20 marijuana day turn violent?
Three people were injured by gunshots fired at the 4/20 marijuana celebration in Denver Saturday. While there is growing acceptance of marijuana use, the issue remains politically controversial with federal law at odds with the decriminalization trend among some jurisdictions.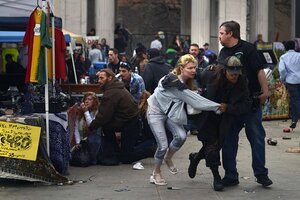 Joe Amon/The Denver Post/AP
What started out as a mellow day to celebrate marijuana in Denver – one of many such annual "4/20" gatherings around the world – turned violent Saturday with gunshots fired, three people wounded, and thousands of revelers running for cover.
With the Boston Marathon's recent experience in mind, there had been increased police presence as tens of thousands of pot smokers and others gathered in Denver's Civic Center for the worldwide event held every April 20th.
"It was peaceful; everybody was having fun," Laura Forduno told the Denver Post. "And then you heard the shots. Pow, pow, pow, pow."
None of those shot was seriously injured. Police are looking for two suspects – both described as black men.
Denver police are asking witnesses to come forward with information, Denver police spokesman Sonny Jackson said. "Everybody fled. That's the problem."
The larger-than-usual crowd in Denver Saturday was tied to Colorado's recent passage (along with Washington State) of a ballot measure legalizing recreational use of marijuana.
Organizers expected record crowds, and the tens of thousands of people who packed into the downtown park did not disappoint, the Denver Post reported.
---